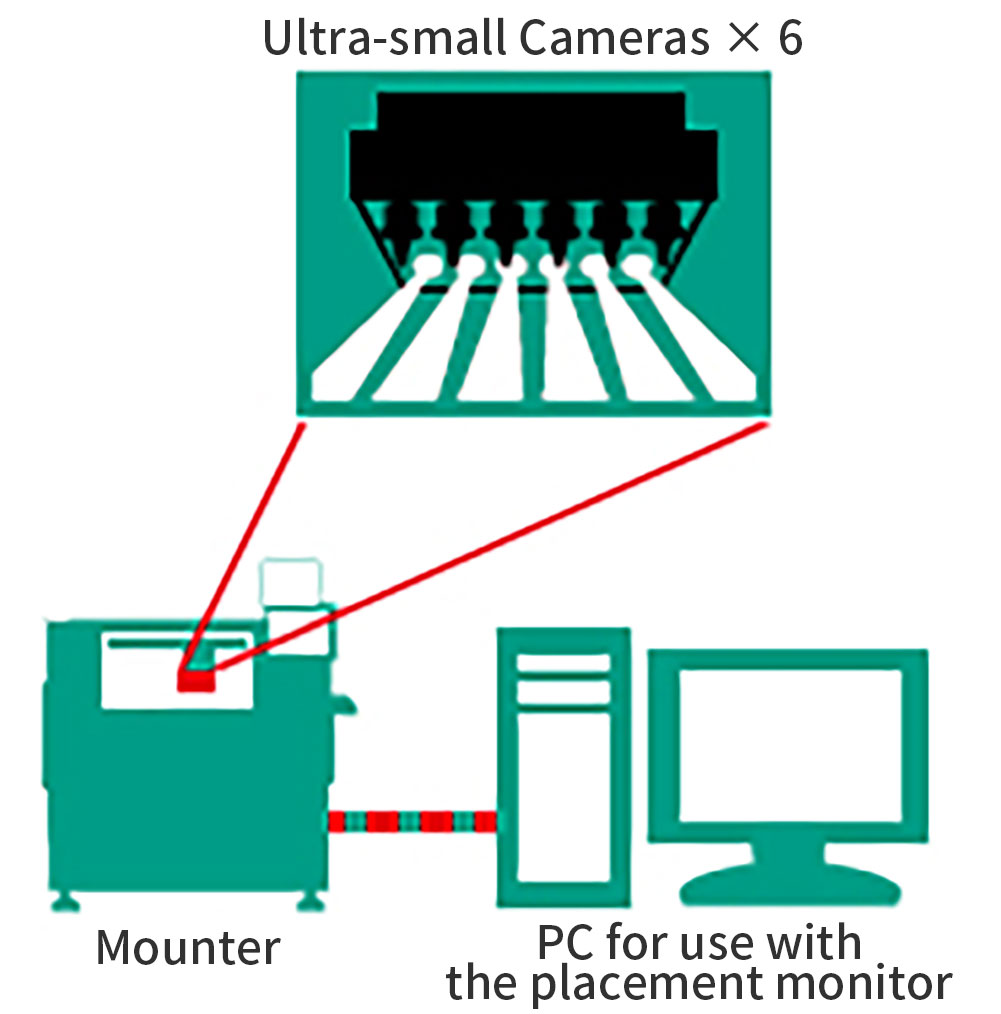 Placement Monitor
Pickup and Placement as the
"Eyes of the Mounting Process"
Supported Model
KE-2070/KE-2080/KE-2080R/FX-3R/KE-3010/KE-3020V/KE-3020VR
Catalog download
Contact
Features
Defect Cause Analyzing Tool
Captured images will be stored in a database. When a defect occurs, the database can be searched to retrieve the captured image data so that analysis of the defect cause can be easily carried out. In addition, a full range of analysis supporting functions is provided including a Movie Mode and a Digital Zoom Function.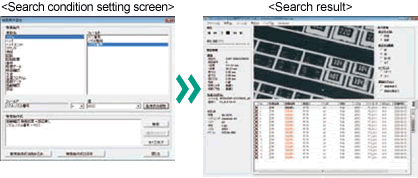 Component Presence Verification
By comparing the images captured before and after the component placement, it is possible to judge whether the component is present or absent.


Database Management
The captured images and the placement machine information are stored in a database. By selecting a specified database from a backup file, it is possible to display previously stored data.


Setup Assistance
When starting production with a new placement machine type, the master image showing normal product placement can be displayed alongside the image captured during manufacturing and trial placement. This allows verification of the placement condition to be easily carried out and shortens the setup time of the new placement machine.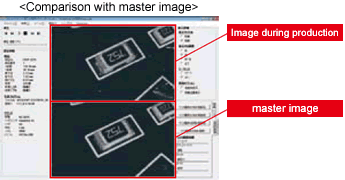 What is"Placement Monitor"?
By attaching newly developed, ultra-small cameras directly to the placement machine head, imaging and storage of the pickup and placement of each component can now be carried out in real-time. When a defect occurs, cause analysis can be carried out visually by the operator based on the stored image data.


Specification
< Basic Specifications>
Supported Model
KE-2070 / KE-3010
KE-2080 / KE-2080R /
KE-3020V / KE-3020VR
FX-3R
Camera field of view
12.0×7.5mm
10.3×7.3mm
10.3×6.1mm
Estimated data size of captured images
Capacity consumption per image
Approximately 200KB(*.bmp), 50 ~ 120KB(*.png) (Monochrome)
Capacity consumption per hour
Approximately 18.3GB
Approximately 16.7GB
Approximately 52.8GB*4*5
Component presence or absence judging
Component size
Min.0.4×0.2mm ~ Max.5.0×5.0mm
Component height
Max.2.0mm
< Computer Specifications>
CPU
2.66GHz or faster (Intel Core 2 Quad or more)
Memory
4GB or more
HDD Capacity
C drive: 750GB or more (SATA)
D drive: 2.25TB or more (SATA, RAID 0)
(Create C drive and D drive; create the data storage area in D drive.Note) *1*2
Chipset
Intel X58 chipset or the equivalent
DVD-ROM Drive
1 or more unit
USB port
1 port or more
LAN port
1 port or more
Monitor resolution
1024×768 pixels or greater
Expansion slot
1 PCI bus slot *3
OS
Microsoft Windows 7 Professional 32-bit
*1 External hard Drive D cannot execute the system.
*2 HDD capacity of the recommended specifications is approximately 1.3 M images (*.bmp) (equivalent to 2.6 M components).
*3 An IEEE1394a expansion card specified by JUKI is to be connected to the slot for communication with a mounter.
*4 It is a total capacity when taking four images with four placement monitors installed.
*5 Five-image mode is selectable. Feel free to contact us for more details.
* Microsoft Windows 7 is a registered trademark of Microsoft Corporation in the United States and other countries.
* Intel Core is a trademark of Intel Corporation in the United States and other countries.
Contact